Last updated on June 9th, 2018 at 08:44 pm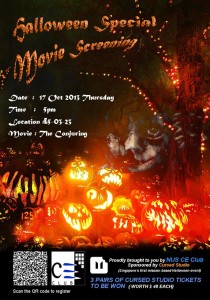 Our welfare event for this semester is scheduled in Week 9, 17th October (Thursday) at 5pm.
Invite as many friends as you want! One of the highlight for our event is the lucky draw. We have a total of 3 pairs of tickets (worth $48 each) to
CURSED STUDIO: Singapore's first mission based Halloween event.
Movie : The Conjuring
Date/ Time : 17 October 2013 (Thursday), 5pm
Place : E5-03-23
Sign up here :
https://docs.google.com/a/ceclub.sg/forms/d/1mun5PGNfwbiMC24e0YMsuV85Z-F48pnM_uQ4Mopguh4/viewform
If you want to check out
CURSED STUDIO, here is the link :
https://www.facebook.com/events/448104821970986/?ref=22